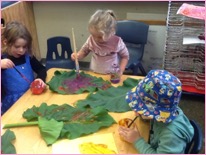 Reminders
As the weather is still warm can you please provide your child with a named sunhat and drink bottle. We would also like to continue to ask all whanau to sunblock their children before arriving at Polyhigh in the mornings.
Please return any wet bags.
If your child has any soiled clothing, the clothing will be bagged and put in the white bin in the children's bathroom, this clothing is to be collected on the day of the toileting accident, thank you.
We have also had several cases of headlice in the Tui room, checking your child's hair regularly is recommended, especially during this time, when headlice seems to be more prevalent. Can you please inform the teaching team if your child has had headlice, thank you.
Can you please check and trim your children's fingernails, as we have had a few children scratched whilst playing with their peers. Thank you.  
It would also be greatly appreciated if whanau who haven't filled in a "Who am I" form, could do so and return the completed form to one of the teaching team. The forms are located next to the daily sign in sheet.
Read more
https://www.polyhigh.co.nz/wp-content/uploads/2013/09/Preschool-News.jpg
266
266
Jane Byrne
https://www.polyhigh.co.nz/wp-content/uploads/2013/06/PolyHigh_hori_logo2.png
Jane Byrne
2019-03-15 10:50:06
2019-03-15 10:57:05
Tui Newsletter - March 2019